Together to the perfect solution for your requirements
Posting of job openings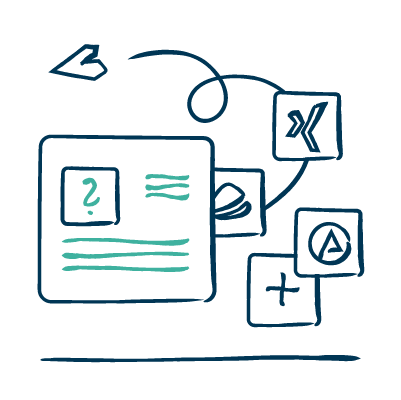 Which media are best suited for my job openings and target groups? How do I reach my desired candidates accurately and without wastage? And how do I also attract latent candidates who are not yet looking for a new job? There are various ways in which you can find answers to these questions.
Do you attach great importance to personal contact and personal advice from a contact person who knows you and your wishes exactly? Or do you know exactly where you want to place your ads and would like to get the best possible performance and many key figures from your publishing process?
We support you in your recruiting activities to the extent you wish. If you want to publish your Job Openings on appropriate portals on your own, this is just as straightforward as involving your own Are you unsure where best to place your job openings, or whether the text of the job opening appeals to the right target group? Then our colleagues from the personnel marketing department will be happy to help you. We are also happy to support you in the areas of contract handling, contingent management and recruitment process outsourcing (RPO).
Our d.vinci media team
Would you like to outsource advertisement placement and related topics and/or make use of consulting services?
Our media team will be happy to help!
Agency integration
Are you already working with an agency that you would like to continue integrating into your placement process? Learn more about integrating an existing agency here!
d.vinci Multiposting
Do you handle your job advertising process yourself and would like to be able to view and evaluate comprehensive key figures at any time? Then d.vinci Multiposting with the interface to the Federal Employment Agency and indeed best fits your requirements.
d.vinci default interfaces
You take care of the placement of your Job Advertisements on your own and do not need any external consulting or support? Simply use the already prepared direct interface to more than 40 job boards in your d.vinci applicant tracking system.
RPO & HR marketing
Are you interested in support that goes beyond the job posting process, such as pre-selection of applications, target group analysis, workshops, etc.? Then we would be happy to advise you on the possibilities of RPO and personnel marketing!
Undecided? Just ask us!
If you are still unsure which option best suits your needs, or if you would like more information about job placement and RPO, just give us a call. We will also be happy to discuss how you can usefully combine the individual services.
True to the motto "it doesn't cost anything to ask", we will discuss with you, without any obligation, how we can best design your job placement process. We look forward to your call at +49 (0) 40 37 47 99 25 or your mail to consulting@dvinci.de so that we can find the best way for you together!