Linchpin in recruiting
Your career website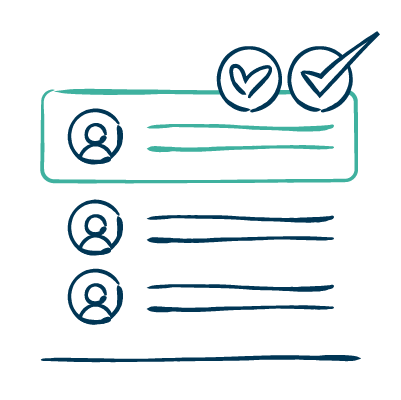 Conceptually well thought-out, content-based, target group-oriented and above all authentic – this is how your career website should be designed in order to be a successful hub for your recruiting activities. Nowadays, almost every potential applicant uses this channel to find out about you as an employer as well
as your job offers and the application process.
Take advantage of this opportunity and present yourself as you are!
A successful career website gives a realistic picture of what future
employees can expect from you and thus makes you attractive
and credible as an employer.
1. Being found
As one of the central points of contact for finding out about you as an employer and submitting an application, your career website must be easy to find. From optimal integration on your company homepage to SEO measures and social media integration – make sure that applicants find you in the best possible way!
2. Employer information
Don't just post current job ads, provide potential applicants with additional information – for example, information about the application process, background on the work environment, the future job or even the company location and career opportunities. Show what you offer as an employer and what you stand for. But be careful: avoid empty phrases and instead focus on what makes you stand out as an employer!
3. Responsive Design
Make sure that your career website – in the best case the entire application process – is optimized for mobile devices and that the information it contains is constantly updated. This increases your chances of attracting qualified applicants.
4. Application process
You are findable, appeal to your target groups, provide credible information about yourself as an employer – and yet a positive candidate experience often fails due to a non-existent common thread. Consider optimizing other touchpoints that a potential candidate has with you. These include your job advertisements as well as the rest of the application process. What documents are needed? How long does the process take? This information belongs on your career website.
Integrate job advertisements
With d.vinci you can easily integrate your job advertisements directly from the applicant tracking system into your career website – without any installation effort and in the standard configuration completely free of charge.
Through the integration as a Java Script widget, your open vacancies are better found in search engines (SEO) and optimally displayed on all end devices (desktop or mobile). The three preset filters also provide your potential prospects with an even better overview of the vacancies. The filter data is automatically retrieved from your system settings in the d.vinci applicant tracking system and continuously updated so that the current number of published jobs is always visible at a glance, depending on the filter option. New jobs are also marked with the note "NEW". Thanks to the automated retrieval, no additional maintenance effort is required from you.
You can integrate your job board into your own homepage yourself. The appearance of your job list can be easily adapted to your corporate design.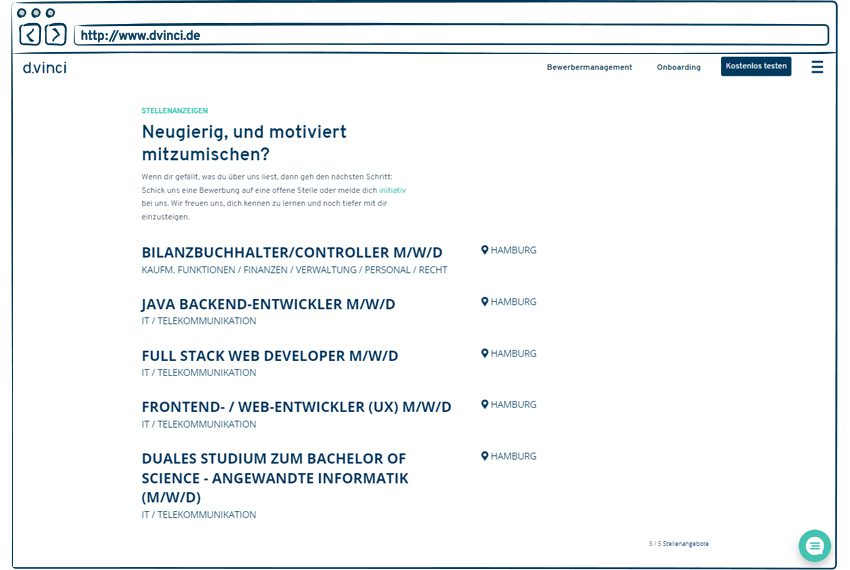 We support you!
We support you not only in the conception of a new, but also in the optimization of an existing career website, ensure a positive candidate experience and strengthen your employer brand.
Target group optimization
We help you optimize the structure, design (text and images) and content focus of your career website for your target groups, analyzing them together with you in advance.
Findability
From optimal integration on your company homepage to SEO measures and social media integration – we make sure that applicants find you in the best possible way!
Conception & Optimization
In terms of target group-optimized design, a career website can stand out a bit from your actual homepage. Nevertheless, we always make sure that it integrates seamlessly into your company's corporate design – both when designing a new career website and when optimizing an existing one. We individually analyze the structure as well as the corresponding implementation options (e. g. images, videos, chatbots, testimonials etc.) and are available to advise you throughout the entire process.
You would like to have even more possibilities?
For all those who would like to use even more filters or have individual requirements for the layout or filter naming, we will gladly take over the configuration. Just contact us!