Part of the team – right from the start
Onboarding software
for a strong employee retention
All tasks and process steps at a glance, a transparent and simple internal and external communication and efficient cooperation with the specialist departments: d.vinci enables onboarding that turns an enthusiastic candidate into a motivated and loyal team member.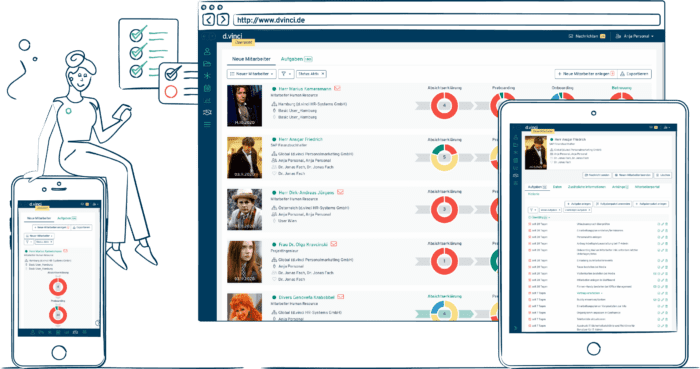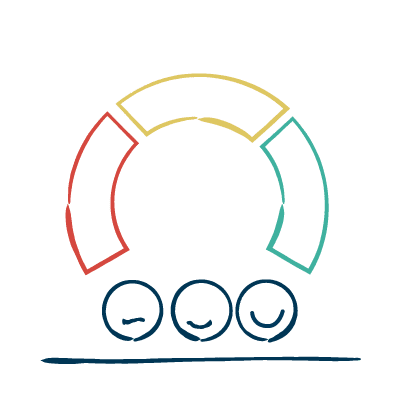 Binding begins even before signing the contract.
If an employee feels welcomed and seen from the start, his satisfaction and motivation increase.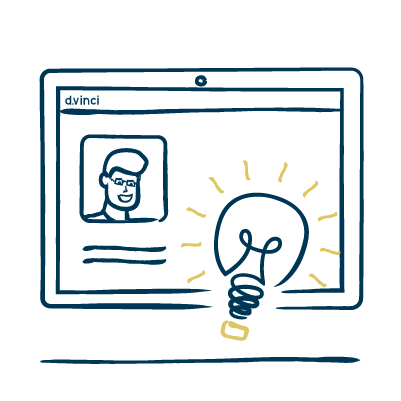 Good training, fast productivity.
The uniform knowledge of technical, social and cultural processes creates security and clarity – for everyone.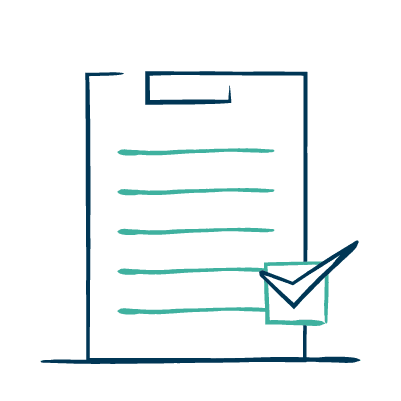 Don't get bogged down.
Put an end to task ambiguities: If you have an overview of everything thanks to the software, you can be sure that nothing will be forgotten.
The onboarding software
at a glance
Intelligent functions you don't want to miss anymore: d.vinci Onboarding supports your employee retention just the way it suits your company.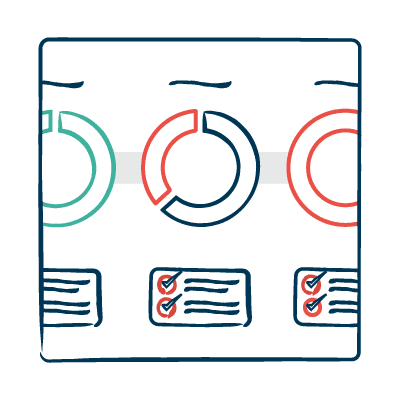 All tasks at a glance
at all times
Post-it chaos? We don't like it at all! Color systems and process donuts are our solutions to manage all to-dos and due dates. Tasks can be completed by you, or assigned to your colleagues in the departments – simply with a click.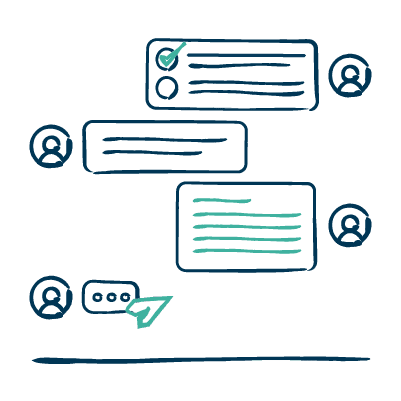 Inform via the
employee portal
Like writing emails, only much better: The employee portal of the onboarding software is an interactive exchange channel for general and individual information between you and a new employee. It ensures early integration, even before the first day of work.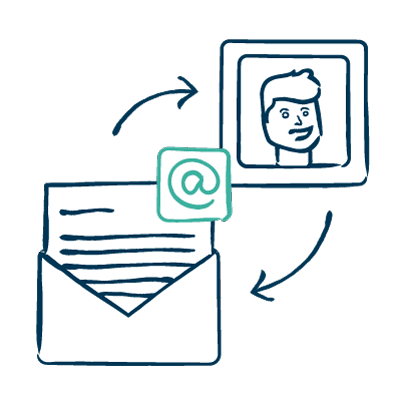 Automation of
information processes
By linking to the employee portal, an applicant learns immediately whether for example his employment contract or other important documents have been received without you having to contact him explicitly. This creates clarity without time-consuming communication.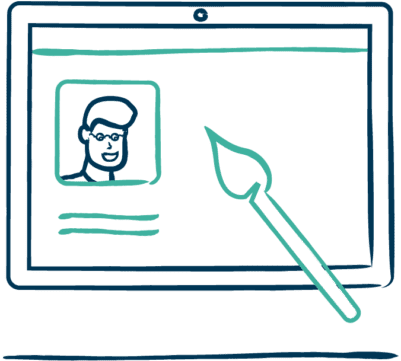 Customization for
your design
Oops, who are they? Of course, this should not happen! New colleagues should of course immediately recognize you as their employer in the employee portal. Your own design can be experienced by adapting the colors and by storing your logo.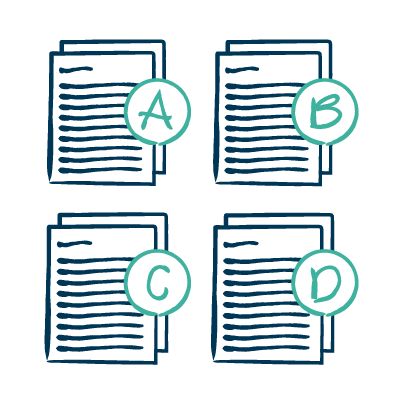 Create and retrieve
task packages
Task packages make your work easier when you have to fulfill target group-specific requirements. Whether you are a trainee or a manager, you can divide tasks into different categories so that you can retrieve and use them again and again.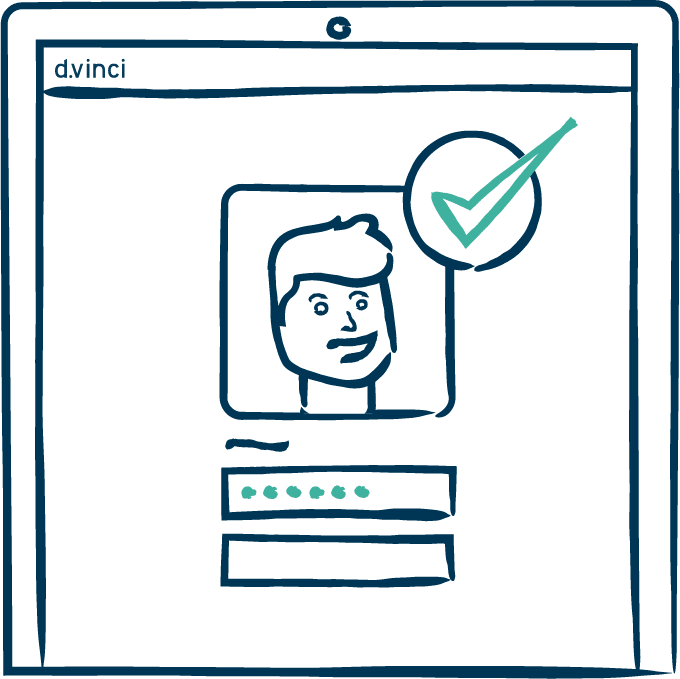 Individual access
and information
You decide when a new employee joins the employee portal and what information they see. From the system, you generate a link with access data and control the publication of articles – time- or task-controlled.
Share and
submit documents
Provide the new employee with all relevant documents that can be filled out before the first day of work and uploaded again via the portal – e. g. by scan or photo upload. This eliminates a lot of tedious paperwork on the first day of work.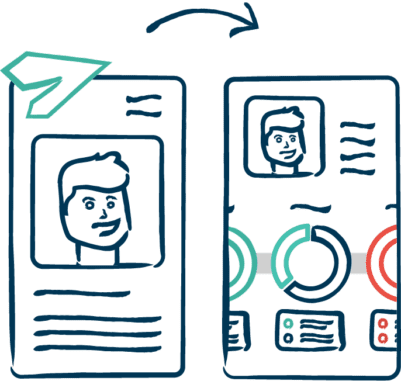 Transfer of
applications
Very simple, from the application to the onboarding: As a user of the d.vinci applicant management, you have the possibility to transfer applicants including all documents directly into the d.vinci onboarding software without media discontinuity.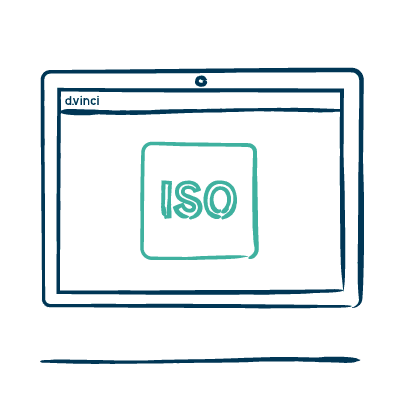 Data protection at it's best
We are the only provider with an ISO certification – the ISO 27001. Our data center is located in Hamburg.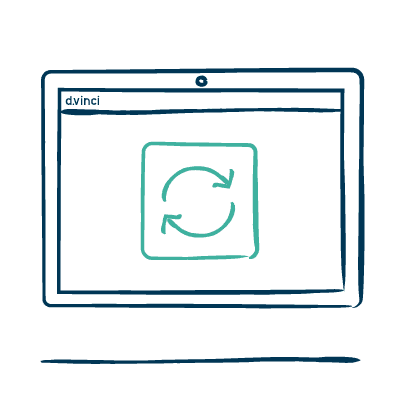 Updates, every 14 days
To keep your system up-to-date in the long term, we release updates with practical, new functions every two weeks.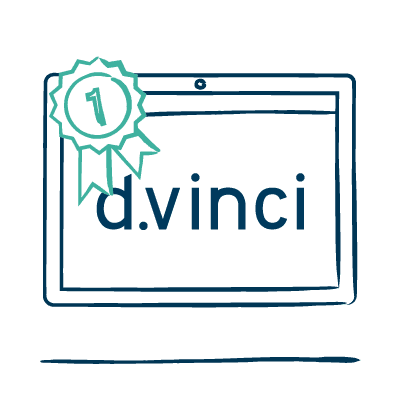 Test winner
d.vinci is the best software in the categorie price/performance and ranks 1st in customer satisfaction.
This is what our customers say
"We are super thankful to have you! Great support! I read at heise.de about the probably biggest data protection scandal in recent times and there was the hint that you can check service providers with cyberscan.io – and your result could not be better! Chapeau!"
"Quick reply, helpfully worded, incl. screenshot and links, great support, thanks!"
"Great service, very friendly. It was very good that there was real interest in the problem and not just "Can't be reproduced, it's working again now". This is very seldom found!"
"A big praise to the always great and competent support. In addition, I would also like to thank you for the new presentation of the service area. It really does add a lot of value."
"Thank you for your great support! We felt very well looked after at all times throughout the entire migration process. I wouldn't necessarily need a new migration in the near future, but if another one is due, I'd be happy to work with you."
"We would like to express a very big thank you for the super good service and the always very helpful support on your part! Especially to Mr. Hofmann, who always helps us with words and deeds – even at Corona peak times."
"Fast, competent and very helpful cooperation. Feedback is taken very seriously. Thank you."
"The customer service at d.vinci is just really great! You can always reach someone immediately by phone and always get very competent answers. Many thanks to you and your colleagues!"
"A big thank you to you for the great cooperation and support! 🙂 We were able to implement quite a few things with you and were supported very competently. We are also looking forward to further cooperation!"
"Today, we receive 10 times the amount of applications and, thanks to the d.vinci applicant tracking system, we can process them without additional personnel in such a way that the applicant also has a good application experience."
"The applicant tracking system is preconfigured and thus intuitive and immediately usable. In addition, workflows could be customized individually. And last but not least, the highest data security through the ISO 27001 certification and the data center in Hamburg as well as regular system updates completely convinced us."
"The applicant tracking system of d.vinci is so comprehensive and has so many features that we would never have gotten to know without a workshop. Ms. Ehnert, as our contact person, was available to answer all of our questions and was also able to give us input that we had not previously considered."
"On the one hand, the workshop and the system introduction made us fit for everyday life. We were able to start 100% afterwards. We were able to pass on all the knowledge we picked up there perfectly to our users."
"Without a workshop, a quick product launch would not have been possible. If you want a solution that is tailored to your needs and you don't want to spend many hours on the hotline, you should definitely book a workshop."
"After applicants have gone through an optimal, system-supported and fast application process, the Candidate Journey leads to a coordinated and transparent onboarding in our new Welcome Portal. Thanks to the constructive collaboration with d.vinci, we offer applicants, new hires, and also our employees and managers an appealing, reliable, and individual platform for all processes related to joining d-fine."
Are we the most expensive?
No, just the most customer-friendly.
We want to give you planning security and flexibility. The prices for the use of the d.vinci applicant tracking depend on the number of employees of your company – for this we were even awarded with the best price-performance ratio!
Onboarding
Software

Our prices are based on the number of employees you have. Always.
Personal customer service included.
from 315€/month
Try Now!
Curious?
Try it out now!
Get to know d.vinci in a relaxed way in your own environment.