Fits! Smart online assessments from the pioneer. Technology leader since 1999.
FOR A PERFECT BASIS FOR DECISION-MAKING
Assessing the potential of talent correctly is difficult. With ALPHA-TEST as a partner, HR managers receive AI-supported, digital solutions from the industry pioneer that provide valid arguments for decision-making. Whether you need to identify new hires or junior managers, as a technology leader we offer psychologically and technologically based online assessments, assessment centers and digital evaluation processes along the entire talent life cycle.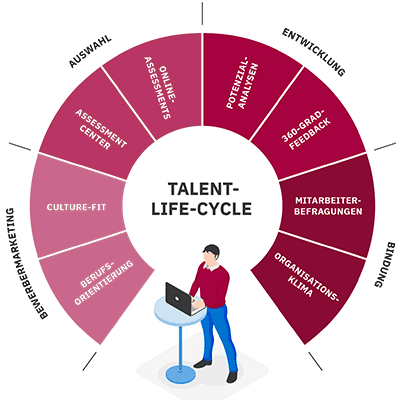 FOR YOUR COMPETITIVE ADVANTAGE IN TALENT RECRUITING
We offer suitable online assessments for every concern. With around 600 career tests available for immediate booking, we offer the most comprehensive portfolio of standard tests on the market. We provide competent support in the selection of apprentices, trainees, specialists and managers and work with you to develop customized online assessments. In this way, you minimize the effort and costs involved in assessing your talents.
Thanks to state-of-the-art technology, we are always one step ahead. Highly valid, easy to use and secure: To achieve this, we rely on state-of-the-art digital solutions, reliable data security and a sophisticated infrastructure.
With ALPHA-TEST you make the best personnel decision validly, quickly and uncomplicatedly.
More about partnership