Candidate Experience
Optimal application processes for applicants and personnel managers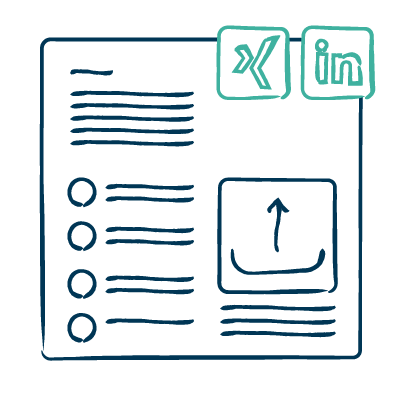 All perceptions and experiences a candidate has with a potential employer form the candidate experience. This experience starts with a simple application form, because applicants nowadays don't want to fill out pages and pages of difficult questionnaires, but rather quickly submit their documents to a company.
In addition, it is important for you, as a recruiter, to know exactly how your applicants evaluate the application process as well as your appearance as an employer. Is the questionnaire too long? Did the content and layout of your career website appeal to them? The feedback
tells you where you can still improve.
In the d.vinci applicant tracking system, you invite your applicants to a simple and flexible application process, collect feedback directly after completing the application form and at the same time make it much easier for yourself to process applications that reach you by mail or post.
Candidate Experience for the applicant
With the d.vinci applicant tracking system, you create a way for your applicants to answer questions in the application process quickly and easily. With one click, the questionnaire automatically fills in the information from the XING and LinkedIn profile or via a selection function from a resume; instead of having to type in all the information manually, the applicant only has to complete his or her information before submitting his or her documents. This reduces the application time for your candidates to a minimum and you present yourself as an employer who is up-to-date with the latest technology.
Four factors for an optimal application process:
Short, simple, mobile-ready application form.
Quick contact with existing profiles, e. g. LinkedIn
Document upload also from your smartphone (e.g. via Dropbox)
Clear, simple user guidance and comprehensible texts
In addition, your applicants can directly give you feedback on your application process and your appearance as an employer. After successfully submitting the application via the application form, the applicant receives selected questions in the form of star ratings or free text fields. This way, you can keep an eye on the satisfaction of your applicants at any time directly in your d.vinci applicant tracking system.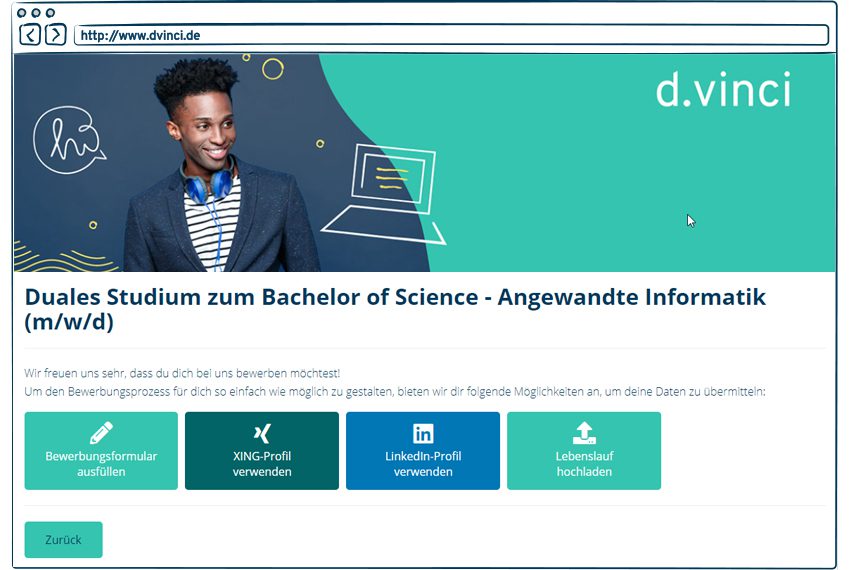 Candidate Experience for the personnel manager
The d.vinci applicant management also supports human resources staff in capturing applications. Many companies still receive paper applications, which until now had to be typed out manually. With the d.vinci applicant tracking system you have the possibility to use the readout of applications internally as well. How? It is very simple! You scan the paper application and send it to the mailbox in the system using a mail address created in the applicant tracking system. There, all data from the scanned document is read out and automatically transferred into a questionnaire. If necessary, you only have to make additions instead of typing out the entire application manually. Of course, all application attachments remain in your applicant file. You can now continue to digitally process these applicants as usual.
In order to collect feedback from your applicants, standard feedback questions are stored in the d.vinci applicant tracking system as a 5-star rating on the time required and the comprehensibility of the application form as well as on your job advertisement and your career section on the homepage. In addition to the standard questions, you can create your own feedback questions and store them in your applicant forms. All survey results can be evaluated clearly and easily in the reports.